Who am I?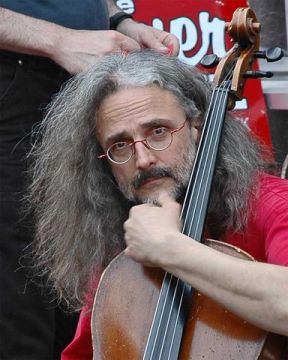 I studied music composition at Fairhaven College on the campus of Western Washington University with Americole Biasini and Dr. E. LaBounty. I have attended the workshops of Kenneth Gaburo, David Mahler, Meredith Monk, Simone Forti, and Pauline Oliveros. I studied piano for 6 years, Doublebass for 9 years, voice with Roger Nelson and Tomasa Eckert for 4+ years, and composition with Janice Giteck for 7 years.

I began composing at the age of 9 and have written over 200 works, most of which have had public performances. They include, operas, dance/ballet pieces, and incidental music for the theatre.

Since 1973 I have been active as a composer/performer. I have often worked with instruments of my own design and construction, using just intonation for the basic tuning.

In 1982 I formed the Quixotic String Ensemble with adults who had little musical experience, I trained them to read music and perform on my instruments. We performed regularly throughout the Northwest until 1989.

From 1983-87 I was a member of, and a composer for, Gamelan Pacifica, a group using instruments based on the instruments of an Indonesian orchestra.

In 1984 I was recipient of an and/or 'Support to Individual Artists' grant to build a keyed hammered dulcimer the onaip.

In 1987 I received a Soundwork commission for Performa '87 Zahhak for piano, clarinet, and cello,
performed by members of Cornish's New Performance Group.

In 1994 I received a Jack Straw Artist Support Grant for a piece using urban sounds and acoustic instruments/voices, which resulted in The 12th.

In 2005 with Gordon Frazier, Maurice Colasurdo we created a 'band'(?)The Turtling Dithers and continue to perform in concerts from 1-3 times a year.

Roger Nelson (music director), Jean Sherrard (Director) and I worked towards a full production of my opera The Map; An opera with moments of comedy and Epicurean Philosophy,
For more information on this project please click the link above.

Some of my work -
The 13th; a piano concerto
for urban sounds and various instruments,
I have created many pieces like this the most
recently completed
Symphonic Meditation (aka- I am in a record store)

Wamba a shadow puppet piece performed in the early 1990's. For piano, flute, trumpet, sax and cello.

No Tongue, an opera for audience participation, Created with Playwright Edward Mast

Tragicall wedding,life, and death of Mathew, Margarete, and Son a one man opera with piano, guitar, and ycrix,
at this time only part one is available.

Mandala for chamber orchestra

Cass/Andra; baseball, food and prophecy, a chamber opera for soprano, tenor, baritone, flute, cello, toypiano and guitar [performed spring 2002].

Blood: An opera for Tenor, Soprano and speaker, using electronics in place of orchestral instruments though fully scored for Orchestra and ethnic instruments.[performed September of 2005].
I recommend that you read the libretto to help understand what you are listening to as much of it is sung in foreign languages.

Oasis Music for a diorama/puppet/ballet piece, [performed 2009].

It was recently (2017) pointed out that I have not listed all the 'moments' of performances/compositions that I might tell about orally. This is true primarily because there's both too much and it's repetitious (at least to me) and I am never sure exactly what might be of interest to a stranger. I have become more busy in the last 5 years, working with Butoh Dancers, playing in Silent Movie Accompaniment ensemble, solo cello performances, works for left hand piano, new instruments built, some political music events....the list goes on.
If you have interests in any of this please feel free to write and ask or even call and I am willing to expand or bring you more up to date.
As always asking to be placed on the notification list will keep you informed of upcoming performances and if you are only interested in one sort of thing please make that obvious.
email at jay@soundand.com


Some of my work has involved audience participation and the use of non- traditional objects in traditional compositions.
I have given workshops in; instrument discovery/ construction/instruction, vocal work for actors, taught\created music with and for the hearing-impaired, and worked with/teach preschoolers and adults (using materials developed by MMCP [and others]) learning music, musical skills and expressions in my studio in the
Leschi/Mt. Baker area.