sound & SILENCE
a unique approach to music lessons for children and beginning adults
Concert Announcements and other projects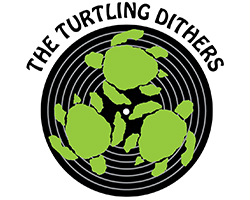 The Turtling Dithers are working on We tried' a series of songs about working to make the world better than we find it. Stories about everyday people and their struggles to make a life for themselves. Click on the link for more information. Turtling Dithers



March 3rd, 2018 - 7:30 (the show is about one hour)
Mt. Baker Park Presbyterian Church3201 Hunter Blvd. S., Seattle
Note that the entrance is on 37th Ave. S.




Lastly work continues on a piece of mine called Impossible Thoughts watch out for it!!!
Thanks
Jay



Winter Solstice 2017 here


To wonder
In wonder
I wonder
It is not the same as curiosity-.
It is better and may your coming year
be filled with wonder


Jay

~~~~


To get on my mailing list for concerts and other musical events please write to


jay at soundand.com.


~ ~ ~ ~ ~
Who am I?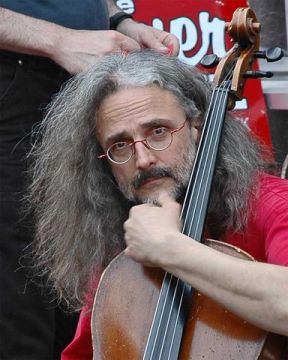 I have given workshops in; instrument discovery/ construction/instruction, vocal work for actors, taught\created music with and for the hearing-impaired, and worked with/teach preschoolers to adults (using materials developed by MMCP [and others]) learning music, musical skills and expressions in my studio in the
Leschi/Mt. Baker area.
for more complete information click here.

Instruction in listening, playing, instrument building,and composing. Emphasis on all aspects of the world of music and on the musics of the world.
Specializing in children and beginning adults. Ages 3-adult

In the Leschi/Mt. Baker (Seattle) neighborhood, Private individual lessons in piano, cello, string bass, bass guitar, guitar (basic chords, fingerstyle, classical), theory and composition.
Group lessons for children 3-7.
I have experience working with children with disabilities, if your child may be part of this community please call me if you think they may be interested in musical activities and we can discuss what I may be able to offer.
Lesson times are weekdays and weekend mornings.
For further information call
Jay Hamilton
206-328-7694
or email
musiclessons
@
soundand.com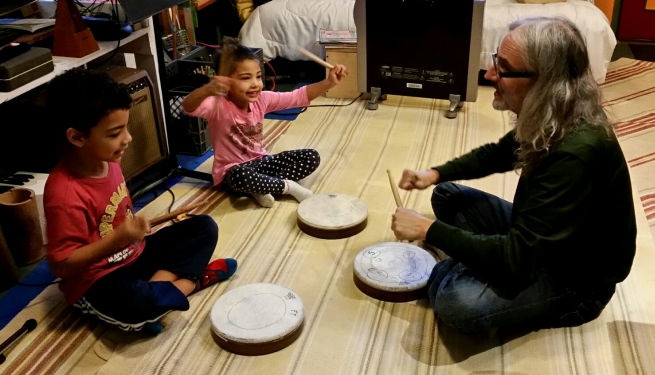 What do I teach?
Introduction
Some Rules and a little Philosophy about practicing
Group Lessons
Frequently Asked Questions
Reviews of my classes and lessons
What is a lesson like?
What do I charge?
Who I am
Links to resources I can recommend
The Tea Table project in Colman Park
I have kept daily journals of my travels
in Turkey .
I attended a Music Festival in Fes, Morocco
May 2017, the music I wrote and a pdf of the journal I kept are here.

Parents often ask, "What instrument should my child begin with?"

The best answer is: The one that your child is most interested in playing.


Many times, because of limited exposure, your child will not know what options are available in the world of musical instruments.
I offer exposure to a great variety of musical instruments, styles, and experiences, which can help the students choose their own musical direction.
In each lesson we explore the world of sound, both traditional and non- traditional, and investigate how we can create music from what we discover.
During the lesson I emphasize listening: to the sounds around us, to the music on the radio or stereo, to whatever gives us pleasure.
We work on rhythm through drumming, clapping, singing, writing, and reading everything from hand drums to the pots and pans in the kitchen.
Dexterity increases by playing string and keyboard instruments: wooden and metal xylophones and string instruments from the piano to dulcimers to Chinese style kotos.
Ear training and breath control are developed by singing and playing wind instruments, from bird calls and soda straws, to flutes and whistles from around the world.
In private lessons for a specific instrument or musical skill, I use many of the above activities. The goal is to be a well-rounded musician who will enjoy all varieties of musical experiences for the rest of our lives.

sound & SILENCE
A unique approach to music lessons, specializing in children and beginning adults


For further information call
Jay Hamilton
206-328-7694
or email
musiclessons
@
soundand.com

or ctrl[cmd]+home
Some Rules and a little Philosophy about practicing
Practice at a scheduled time, one agreed upon by the entire family, and in the same place EVERYDAY
When you practice, do one of the following for at least 15 minutes before changing to a different one;
Listen to one song over and over again
Play your instrument- practice the music of your lesson-PLAY IT FOR FUN TOO!!!
Make a new instrument
Write a piece of music for one of your instruments
Read a story about a musician (singer, performer, composer)
Go to a concert ( a musical, symphony, chamber music, opera, choral, rock-n-roll) or watch and listen to one on the TV/Video
*Practicing is something we learn how to do.
*It does not come naturally or easily- though it can be fun/involving/ compelling, often that is not the case- practicing is work.
*To plant the seeds of the idea that practicing is something that we do, and that it can become natural, it is very important that Mental, Emotional, and Physical space be created for each student so that they can practice. To this end a family decision on the time and place that practicing occurs is very important. This tells the student that everyone understands that their musical activity is important (AND DIFFICULT!) and that they will be supported while doing it.
*Keeping a schedule - the time and place the same each day makes this easier.
However studies have shown that it is daily music time (whenever that may be) is more important than a rigid same time.
*No less important is keeping the distractions to a minimum.
*Everyone must agree that the practicing comes first and that bothering the student is to be avoided if at all possible.
*This is hardest and most important when there are siblings.
or ctrl[cmd]+home
What are groups?
I teach young children in groups. There are 4-6 children in a group. I think about these groups as a way to introduce the musical concepts of rhythm, listening/ playing together, and they get hands on experience of all the different types of musical [and some not so musical] instruments.
For me the point of a group of young children is to prepare them for a musical life IF that is what they want. After a few years they will know how to read music in a rudimentary way and they will know what instrument attracts them the most.
From that point it is easier to move into private one on one lessons.

Groups are limited to 6 students
I no longer create the group, it is possible to create a class, if you can gather 3 or more students close in age (I prefer the kids to be within a year of each other, and have found that siblings in the same group is not recommended).
Please contact me, with questions and we can try to set it up.
One of the things that I offer is once a child has gone through some group classes and decided upon an instrument that they want to study- if I do not teach the instrument or I feel that they are in need of a 'specialist' I will help you find an appropriate teacher.
sound & SILENCE
For further information call
Jay Hamilton
206-328-7694
or email
musiclessons
@
soundand.com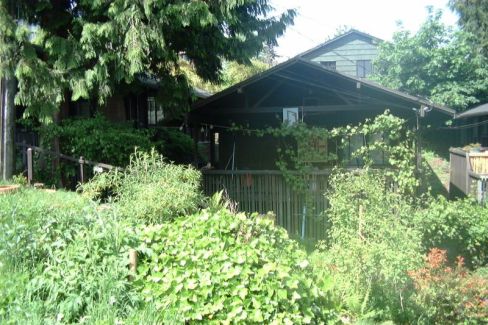 What is a first lesson like?

Some of the following is for group lessons but even for a beginning private student it is much the same.
1. The studio is a shoeless one so without knocking you enter and take your shoes and coat off in the 'mud room'.
2. Then the door into the studio slides and you come in, (as long as you are not more than 5 minutes early you should come in without knocking on that door either.) and someone will show you where the bathroom is so that you can wash your hands- everyone must have clean hands before touching instruments.
3. Then we gather in circle and each child picks a song that they know and we all sing it together (so 6 kids= 6 songs) many of the songs that we sing are singing and drumming songs so everyone will get up for those songs and get drumsticks from the drumstick canister and a drum from the drum box. New students will be shown either by me or more likely by the other kids where these things are.
Then back to circle and we sit and sing and drum.
4. If no one picks a drumming song (this has happened a total of 2 times in 15 years) then I will pick one or we will do some drumming exercises ending maybe with about 20 seconds of wild and crazy.
5. We then put the sticks and drums back And do
stomp
and
clap
physical rhythm exercises which lead (eventually) into notation and reading music notation.
6. If there is a new student today will be take the piano apart day.
This is exactly what it sounds like. With sticks, our fingers and our imaginations we try to understand (at whatever stage in life we are at) how the piano works and why it makes the sounds it does.
I also introduce the ideas of high notes and low notes and loud and quiet and fast and slow (some of this we get with the drumming but for the first lesson the piano works even better), with all the parts of the piano exposed (for I do literally take much of the piano apart) we can see why the piano does what it does and this can relate to other instruments as we go through those in the coming weeks.
6. Time to get shoes and coats on- and often I will give an assignment like find something made of wood that makes a good sound, and bring it to show us all next time. For 3-5 year olds this is homework another new idea.
There are always 2-3 assignments (sometimes more) for homework; Each week there is a cd to listen to and either learn a song from or pick a track and decide why it's your favorite, there is a stomp and clap exercise to practise at home, and often something like I described in item 6.
or ctrl[cmd]+home
Fees/Tuition
All classes- individual and groups- are one hour in length. Tuition is due on the first of the month.


For private students if, due to sickness or accident, you are not able to make a lesson and I have time on another day in that same week- I will make every effort to see you for a make-up lesson.

Groups are $60.00 per month
Private lessons
14 years old and under $140.00 per month
15 years and older $160.00 per month


sound

&

SILENCE

For further information call
Jay Hamilton
206-328-7694
or email
musiclessons
@
soundand.com

or ctrl[cmd]+home
or ctrl[cmd]+home
These are links to sites and software that I use
and are pertinent to taking music lessons
Resources
Parentmap
a parent's resource page for the Northwest

Learnivore.com
This is a fairly new site. It is a resource for finding instructors in your area for a wide variety of activities.
It is also where I have posted a set of essays (blogs?) about music lessons. Some of the material is from information above.
Many 'posts' are expansions of this information. I encourage you to visit it and see if there is someone who matches your interests and needs.

Notation software
Noteworthy Composer is probably the best deal for notation that's around.
It works, has great support, is inexpensive and many of my students have found that it was easy enough to use and compose with.
All around, without spending 4 times as much, you can't do better. [pc only for the moment]
More of my music is accessible from a related site and can be found here. Tabledit
Anything that Noteworthy doesn't do Tabledit can do - create tab and read a number of unusual formats often used in collecting folk music. The software works [it is a little trickier to use than Noteworthy composer] and adds useful tools to notation capabilities. It is inexpensive and unlike Noteworthy it's development and upgrading is timely.
Lilypond
If you are looking for a more professional looking score then Lilypond may be for you. It is not for beginners but rather for people who are copying scores or creating professional looking scores of original compositions. The output is beautiful and the learning curve is steep in the beginning and continuous as the software is always under developement.
However it is free for downloading and if you know something about notation it is easily as good as any of the expensive notation softwares I have tried.



Another place to access some of my music, midi and pdfs is here.
large ensemble
lead sheets 'songs'
Opera and opera-like materials
Piano, piano duets
Reeds (clarinet and sax)
small ensemble; duets to octets
String music mostly cello and guitar some violin or vln/cel duets



Please contact me if you find any links that do not seem to work. (thank you)





or ctrl[cmd]+home